by: Autumn Murray, Brand Ambassador
At the Bettie Page Store, customers often ask about the best way to show off their assets. We are all beautiful in our own way, and ultimately, the perfect outfit for you is whichever one makes you feel amazing! That's why we offer all sizes in cuts intended to flatter lots of different bodies. While it's impossible to capture the wide variety of beautiful body sizes and shapes we Bettie Babes represent, many have found this simple guide helpful in figuring out how to highlight their favorite features.
First, decipher what body shape are you! Below are four commonly mentioned body shapes.
Banana-shaped (also referred to as Rectangular) women are those with similar bust and hip measurements, and only a slight change in waist measurement (example – bust: 36", waist: 28", hips: 36").

Apple-shaped women are those with a larger bust or shoulder frame than their hips, creating an inverted triangle (example – bust: 38", waist: 28", hips: 36").

Pear-shaped women are those with hips that are larger than their shoulders or bust, creating a triangle (example – bust: 36", waist: 28", hips: 38").

Hourglass-shaped women – like our beloved Bettie! – are those whose bust and hips are similar in measurement with a well-defined waistline (bust: 36", waist: 26", hips: 36")
If you're still struggling to figure out your body shape, here is a body shape calculator where you can input your bust, waist, and hip measurements and get a quick idea.
Once you've determined your general shape, here are some suggestions about how to best style your body type:
Banana: Any style with extra embellishment or added ruffles, such as the Shimmy and Shake Dresses or the Hilo Honey Dresses, will fill out your curves and balance your frame.

Apple: Aim for a blouson look on top, perhaps with a Country Club or Secretary Top, while showing off your bottom half by pairing it with a Mermaid skirt or the Cigarette Cropped Pants!

Pear: You might consider going for styles that emphasize your small top and streamline your overall shape. Try dresses like the Left My Heart in Albuquerque and our newest Patricia Dress!

Hourglass: We recommend trying one of our wiggle dresses, such as the Copa Cabana or the newest holiday dress the Va Va Voom. Every curve will stand out in these and you will feel your sexiest!
Have fun playing with these ideas! These are just suggestions, and you are the best expert on you and your body, so above all else, wear what makes you happy! (P.S. – We're still working on suggestions for the Overcooked Broccoli and Broken Slinky shapes… stay tuned. 😉)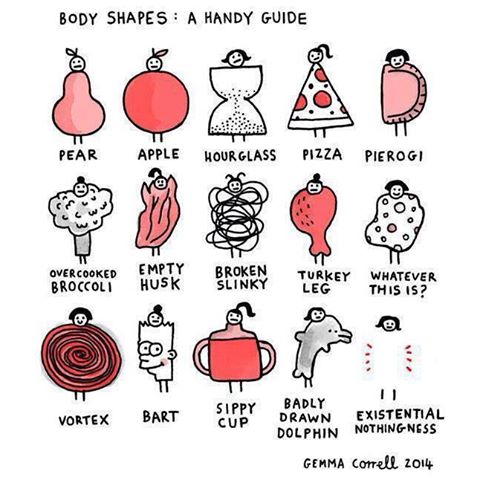 Have you found the perfect style for your shape? Comment below and let us know how fabulous you feel in your favorite outfit!
https://www.bettiepage.com/wp-content/uploads/2017/11/gemma-correll-satire-body-shapes.jpg
480
480
Ryan
https://www.bettiepage.com/wp-content/uploads/2017/01/logo.png
Ryan
2017-11-16 20:53:53
2017-11-16 20:53:53
Find the Perfect Style for Your Shape!