by: Tori Rodriguez, Editor
You may have had the pleasure of tasting one of several varieties of Bettie Page Wine since their debut last year, and Sort This Out Cellars is now introducing the brand-new Bettie Page Rum. I chatted with owner Michael Cobb to find out more about this delicious addition to the Bettie line and where we might sneak a sip.

Tori: Bettie fans have been enjoying your yummy Bettie Page Wine, and we're looking forward to trying the rum. Tell me about it–what can our taste buds expect from this new addition?
Michael: Bettie Page Rum is a spiced rum made from a blend of cane sugar and molasses and spiced with flavors of vanilla, cinnamon, all spice, habanero, clove and honey. It's soft on the palate and can be sipped or used to make incredible cocktails. We like to make Tiki Cocktails like Painkillers, Mai Tai's or our own signature drinks like Pirate's Booty, Treasure Chest or the Pearl of the South Pacific. Recipes can be found at Bettiepagerum.com.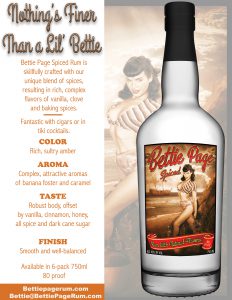 Tori: How did Bettie inspire this particular product?
Michael: While we all know Bettie wasn't known to be a drinker, she wasn't afraid to celebrate the vices of the era. Her imagery speaks to that. The bottle artwork is representative of a more fictitious Bettie dressed like a pirate wench of sorts and will carry a similarly themed fictitious story. The label art was designed by Mark K. Hollinger who has been assisting with the Bettie Page Wine label designs. His work is incredible and he is capturing the essence of Bettie in a whole new way, taking these older pictures and updating them with new themes and elements you may not have been used to seeing Bettie in.
A little more about the packaging for the Rum: We chose a Tennessee bottle type because of Bettie's hometown affiliation…it just seemed to work.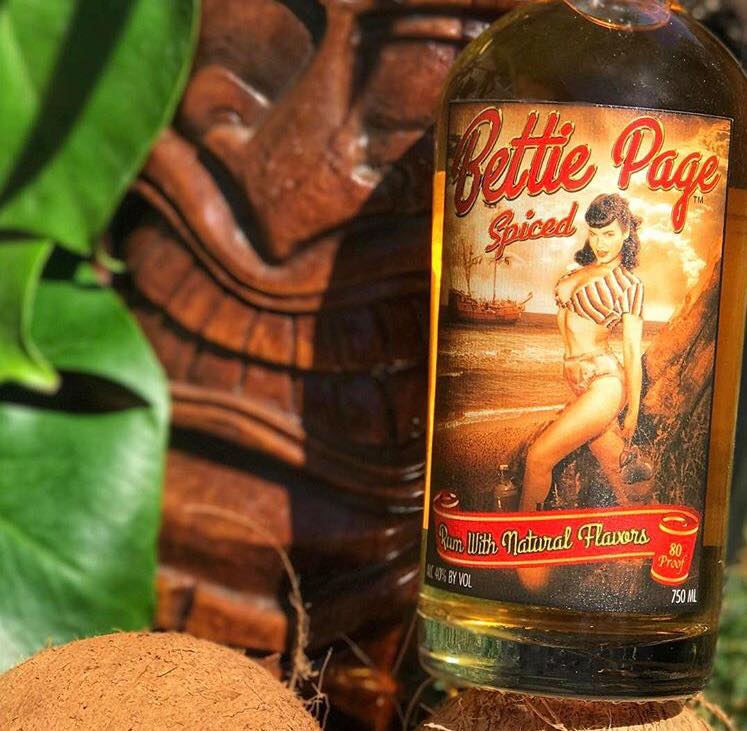 Tori: I hear you have some fun stuff planned for Viva Las Vegas Rockabilly Weekend in April and Nashville Boogie Vintage Weekender in May. Do tell!
Michael: We are going to have a blast at Viva Las Vegas and Nashville Boogie. After being the Official Wine of VLV for the past 10 years, Tom Ingram is allowing us to roll-out and officially launch the Bettie Page Rum during this year's 20th Anniversary event. We will be doing tastings, and the bottles will be for sale right there on-site at The Orleans Hotel & Casino liquor store and retail shops. We have plenty of swag to hand out for those purchasing bottles or who happen to be in the right spot at the right time. This is definitely our "audience" and the crowd we are looking to capture.
As for Nashville Boogie, Jason Galaz has accepted Bettie Page Rum as a sponsor, and Nashville Boogie weekender attendees will see Bettie Page Rum banners and signage all over the festival. We'll have a booth for promoting, and given that the festival occurs just miles from where Bettie Page had a house, it makes it that much more special to be out there showing this new product. Her legendary status is well-known in those parts (and beyond). We are working on setting up distribution and hope to be able to offer the rum and wines to event attendees.
Follow our progress on social media (links below), find where it will be for sale in your area and visit the website for tasty recipes, awesome events, sneak peeks and "subscriber-only" incentives.
facebook/bettiepagerum
Instagram: @bettiepagerum
www.bettiepagerum.com
https://www.bettiepage.com/wp-content/uploads/2017/04/bettie-rum-cover-photo.jpg
315
828
Ryan
https://www.bettiepage.com/wp-content/uploads/2017/01/logo.png
Ryan
2017-04-13 15:01:27
2017-04-13 15:01:27
Introducing Bettie Page Rum!