by: Tori Rodriguez, Editor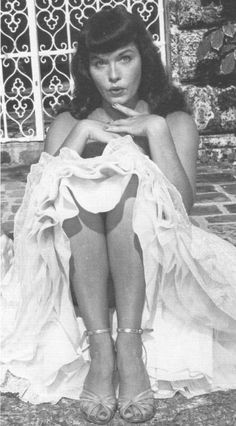 We recently announced the exciting news of the first-ever Viva Las Vegas Wedding giveaway to take place at the event this year. The ceremony is being presented by Bettie Page, hosted by the Viva Las Vegas Wedding Chapel, and supported by generous donations from a whole slew of Bettie-brand businesses. Online retailer Heart of Haute is providing the bride's dress from their recently launched Bettie Page Bridal & Formal line. Mother-daughter duo Teresa and Amanda Becker own Heart of Haute and create its designs–which are "Made in California with Love and No Regrets," as their tagline says. I had the pleasure of chatting with Teresa about Haute history, the new line and what's next.
Tori: Tell us a bit about Heart of Haute: When and how was it born, what's it about and what makes it special?  
Teresa: Heart of Haute began in 2005 as a home-based business. We saw that true vintage reproductions needed to be made with cotton fabrics, and at the time the vintage reproductions popular in the market were in stretch polyester materials. It was recognizing that need in the marketplace for authenticity that inspired the original designs of Heartbreaker Fashion–later renamed Heart of Haute–to develop its rockabilly, tattoo culture and vintage-inspired silhouettes.
Tori: The dresses in the Bettie Page Bridal & Formal line are just gorgeous! How did the line come about, and how were the designs inspired by Bettie?  
Teresa: Thank you, we think the styles are gorgeous too! It was requested of Heart of Haute to create a bridal and formal line by the estate of Bettie Page, and the timing couldn't have been better. Heart of Haute primarily focuses its designs on daytime apparel, and we had been thinking about launching a more formal line. Many of the existing Heart of Haute styles were already being purchased for bridal attendants, and some casual weddings, so the step to make a Bridal and Formal collection was already on our minds.
After studying Bettie's life a bit more, it was easy to relate to the beautiful woman that she was and design a collection with her in mind. Bettie is considered in all of our creations: from her acting career in New York, which inspires our more sophisticated looks, to her time spent in Florida–reflected in our sheer and breezier fabrics, and her ultimate born-again religious period that informs our more conservative styles of simplicity.
Tori: What are some examples of occasions for which the formal dresses might be a good pick?  
Teresa: While the intention of the formal dresses is for bridal attendants, they can easily translate to dresses for special occasions such as concert performances, proms, graduations, award ceremonies and a variety of other events where a beautiful, elegant dress is the order of the day.
Tori: What do you personally love about Bettie?  
Teresa: I think Bettie is misunderstood by the majority of the public. We see so many of her images that are sexual, when in fact the essence of Bettie to me was her great sense of freedom and being comfortable in her own skin. Bettie was always trusting, a bit naive and a whole lot of beautiful.
Tori: Are there any other new developments you're excited about for Heart of Haute in 2016?  
Teresa: Yes, always. We are coming up with new designs all the time, and a marketing plan for Haute Honeys that is about to break.  With respect to the Bettie Page Collection, we are introducing some long dresses and some beautiful veils and headpieces.
Tori: Will Viva Las Vegas attendees be able to see the bridal line at Viva Las Vegas?   
Teresa: Many of the vendors who attend Viva Las Vegas take our line to sell there. We do not have a booth at Viva Las Vegas for that reason–we are primarily a wholesale manufacturer and do not wish to compete with our own customers at this event. In the VLV wedding, the bride has chosen to wear our chantilly lace White Collette dress design for Bettie Page. The Bettie Page Bridal & Formal Collection can be seen at many of our vendors' shops, online at Modcloth.com and TopVintage.NL, soon to be carried at UniqueVintage.com and also on our website at www.HeartofHaute.com  under Collections–Bettie Page Bridal & Formal (http://heartofhaute.com/collections/bettie-page-bridal). Customers can also shop at our warehouse in San Dimas by appointment.
https://www.bettiepage.com/wp-content/uploads/2017/06/bettie-white-skirt.jpg
426
236
Ryan
https://www.bettiepage.com/wp-content/uploads/2017/01/logo.png
Ryan
2016-04-06 19:48:08
2017-06-01 19:48:43
Introducing Bettie Page Bridal & Formal by Heart of Haute