by: Autumn Murray, Brand Ambassador
Last week, The Little Book of Bettie: Taking a Page from the Queen of Pinups went on sale and is now available wherever books are sold. Both a tribute to her groundbreaking image and a playful lifestyle guide, the book offers advice on Bettie-inspired fashion, makeup, body-positive fitness, and more for today's modern woman who loves a little dose of retro. Along with lots of Bettie photos and backstory, this fun read features contributions from "Bettie Babes" like Dita Von Teese, modern-day pinups and entertainers, and everyday women who love Bettie! 
We interviewed author Tori Rodriguez, who is also the owner of Bettie Page Fitness and editor of this very Bettie Blog, to learn more about her new release.
Autumn: We all know that you are a long-time Bettie fan, but where did this fandom begin? What about Bettie fascinated you?
Tori: It all started with the movie The Notorious Bettie Page, in which Gretchen Mol did a fantastic job in the role of Bettie. I knew I had seen Bettie's image before, but I didn't really know about her until I saw this movie – and of course, once I looked up the real Bettie, I was instantly obsessed! As a feminist, psychotherapist, and fitness fanatic, I was fascinated with countless aspects of Bettie, her persona, and her outrageously gorgeous body. I was struck by the sense of freedom, fun, power, and authenticity that is so clearly apparent just by looking at her photos, and when I learned the details of her life story and got to know about her personality – especially from the documentary Bettie Page Reveals All by Mark Mori (who is now a good friend of mine!) – I became even more enamored of the legendary Queen of Pinups.
It's impossible not to admire all that she accomplished and endured – for example, living on her own and supporting herself independently in NYC in the 1940's, as a college-educated woman, no less, when not even 4% of women had graduated college, and all of this after a life filled with poverty, neglect, and abuse. Also, as I discuss in more detail in The Little Book of Bettie, one of the most interesting things about her is how she so comfortably "embodies dichotomies" – she can be both simple and complex, sweet and seductive, silly and serious, which to me is a pure reflection of human nature. It's remarkable that Bettie was able to portray these various elements all at once, which really just goes to show that we don't actually have to choose one over the other.
Autumn: How did you get in contact with Dita Von Teese to write the foreword, and how did she respond to the request?
Tori: I had interviewed Dita for a couple of articles in recent years, and I knew she would be the perfect person to write the foreword for the book. Not only is she clearly a huge Bettie devotee, but she's also a brilliant thinker and trailblazer in her own right. I was thrilled when I reached out and she graciously accepted the role! As expected, she provided a wonderful tribute to Queen Bettie, including the story of how Bettie inspired her transformation from Heather Sweet into Dita Von Teese – and once invited Dita to go to church with her!
Autumn: As your first book, what was your favorite process in the undertaking of this project?
Tori: The overarching joy was knowing that I was honoring Bettie by sharing her story and highlighting all the ways she inspires women today. One of the specific aspects I enjoyed most was including photos and comments from lots of different types of women who count Bettie as a major inspiration. At some point in managing Bettie's social media pages over the years, I coined the term "Bettie Babes," so that was the natural choice for the name of the section featuring these amazing women.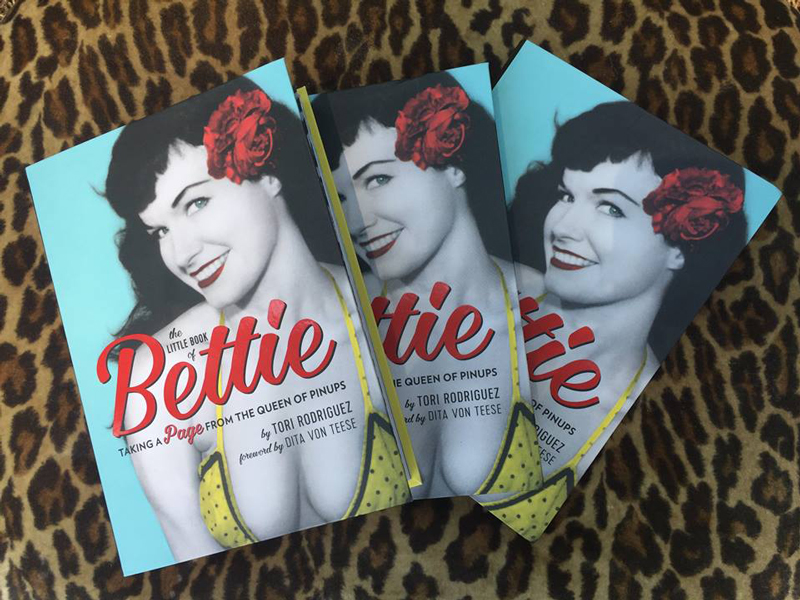 Autumn: What can we look forward to learning about in The Little Book of Bettie?
Tori: There are tons of beautiful photos of Bettie throughout, and the book is divided into the following chapters:
The Bettie Babes

explores the question "What is it about Bettie?" and includes photos and comments from Bettie Babes like Madonna,

Beyoncé

, and Katy Perry, as well as modern-day pinup and burlesque stars, and everyday women who admire Bettie.

The Backstory

offers a nice, comprehensive summary of Bettie's life story.

The Boldness

gets into Bettie's confidence, courage, and body positivity, while also discussing insecurities that she struggled with – as many of us do. That's just one more reason she's so real and relatable. There's also a section called "Diversity on the Pinup Scene," with comments from pinup faves like

Angelique Noire

and

Ashleeta

.

The Body

touches on Bettie's health and fitness habits – including sessions at a NYC gym, extremely rare for women in those days – and offers two complete Bettie-inspired workouts, one of which is based on my workout video,

Bettie Page Fitness: Total Body Strength & Cardio

.
The Beauty, Part I: Vintage Hair & Makeup

covers Bettie's beauty routines and offers step-by-step tutorials by pinup beauty experts on how to achieve various pinup hairstyles and makeup. Contributors include Meghi Misfit, Lyla Blush, Jezzi B, who created

Bettie Bangs

, and the Diamant Duchess.

The Beauty, Part II: Pinup Style

includes fantastic, detailed guides on pinup lingerie (by the amazing Cora Harrington, aka

The Lingerie Addict

) and pinup clothing (by the fabulous Stefanie Jones of Junk Drunk Jones), including where-to-buy lists with lots of options.

The Brains

pays tribute to Bettie's creativity and DIY spirit with three super-cute and totally doable pinup accessory projects (tropical hair flower! Pinup-style straw purse! Nautical shoe clips!) by the mega-talented Brittany Sherman who runs the

Vavoom Vintage

blog.
Finally, Miss Taylor Nicole penned a special section called "How to Pick a Pinup Name," and the book closes with a guide to the various licensed Bettie brands that bear her image today, including Bettie Page Clothing, Bettie Page Lingerie, Bettie Page Rum and Wines, and more.
Readers will have a blast discovering the many awe-inspiring sides of Bettie while also learning how to apply that inspiration in their own lives!
See bettiepagefitness.com for details and order info, and look for the book at the Bettie Page Store in Santa Monica soon! Find Tori and Bettie Page Fitness at @Bettie_page_fitness on Instagram or at https://www.facebook.com/BettiePageFitness
https://www.bettiepage.com/wp-content/uploads/2018/05/tori-with-book-brooklyn-brat.jpg
541
800
Ryan
https://www.bettiepage.com/wp-content/uploads/2017/01/logo.png
Ryan
2018-05-18 13:53:44
2018-05-18 13:53:44
The Little Book of Bettie! Interview with Author Tori Rodriguez