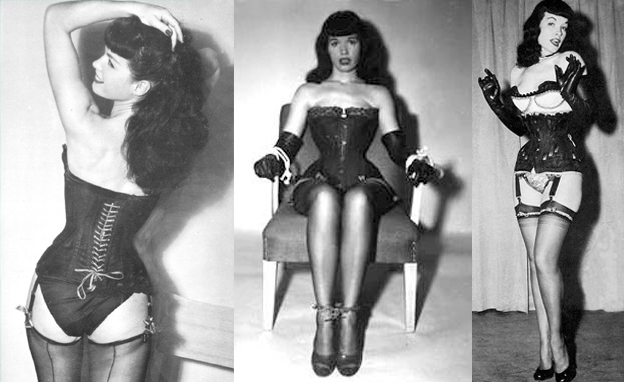 by: Autumn Murray, Brand Ambassador
Bettie obviously corseted regularly… or did she? With her incredible proportions of 36-23-36, it would certainly appear so. However, we can find no evidence that she actually did corset training, and she never mentioned it in any of her interviews that we know of. It is possible that she had the rare waist that naturally looked that way – even in pics of her as a young teen, it was very small. Nonetheless, she sure knew how to rock a corset in her modeling photos, even if it was just for show.
Not all of us are blessed with Ms. Page's amazing hourglass figure, so how to achieve this stellar look? With one of our Bettie Page underbust corsets, of course! Whether you want to dedicate fully to waist training or simply sport the look for a special occasion, these corsets are perfect. The steel-boned Bettie Page corset will last you a very long time – as long as it's treated with love.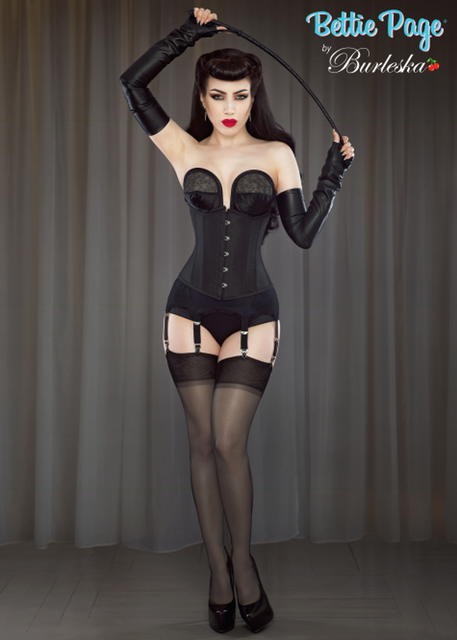 If you plan on embarking on a waist training journey, please take these few tips to heart and always listen to your body. Your safety is the top priority!
Start off slowly.

We recommend starting your process with 1 hour of wear on the first day, increasing to 2 hours on the second day, to 3 hours and so on, until you hit 8 hours per day. We do not recommend you wear your corset for longer than this, as your body does need time to rest and heal.

You should be able to breathe.

It is a common misconception that corsets make it impossible to breathe. Your corset should never be so tight that it constricts your breathing or hurts you! It should feel like a particularly tight hug around your waist.

Do NOT wear to sleep

. Many people wonder if sleeping in a corset is advisable, as it seems to be an easy way to clock 8 hours of wear. However, we strongly discourage people from wearing a corset while sleeping. Sleep disruption – which would most certainly result from wearing a restrictive corset – has been linked with numerous mental and physical health problems, so save the corseting for your waking hours.
Do you have any more corseting tips for our readers or a question about corseting? Comment below and we'd love to get back to you.
https://www.bettiepage.com/wp-content/uploads/2018/09/Bettie-Corset.jpg
382
624
Ryan
https://www.bettiepage.com/wp-content/uploads/2017/01/logo.png
Ryan
2018-09-06 13:35:06
2018-09-06 16:54:30
Bettie & Corsets