When people hear about Clip-in Bettie Bangs™, they often ask "How did you come up with these?" It flatters me that people really love the idea and concept of my creation.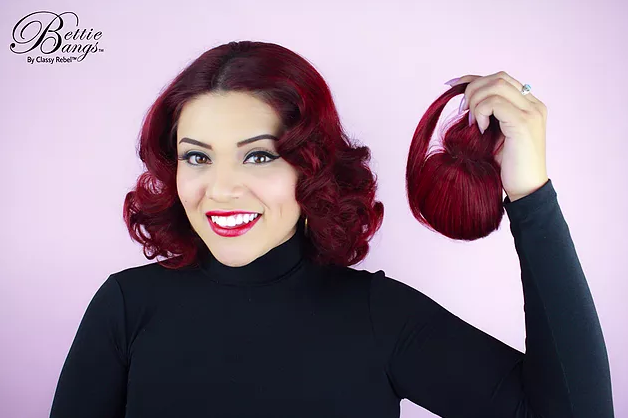 Back when I was in middle school, I was surrounded by so many fun and eccentric hairstyles, and I was already styling hair for my friends and classmates for extra money after school. One hairstyle in particular that I really loved were my friend's short rounded bangs. I'd seen hairstyles like this on vintage black ladies in old photos and films and thought they were so cute! I wanted to have some bangs but at the time, I had braids and having curly textured hair, bangs mean daily heat and a lot of maintenance. 
After a while I'd learned that girls around the way called them Bettie Bangs and I then learned more about Bettie Page. I had also learned that the hairstyle was recommended to her by a black photographer and police officer, Jerry Tibbs, after noticing her large forehead. This was so interesting to me and a very important element of why I liked Bettie and the bangs even more. 
Culturally, I grew up wearing many hairstyles, including extension hair. That was just a part of it, and it was very normal to me. My mom's hands had begun hurting after a while from doing my hair and so many other clients, so she taught me how to do my own hair at the age of 8. I was braiding and adding hair to my own head by age 12. If there was a hairstyle I wanted but couldn't pull off with my natural hair, I would make a piece myself with extension hair from the beauty supply. A little sparkle and glue and I had my Bettie Bangs!
After a while I had so many ponytails and extension pieces that friends started asking me to make them and style their hair for every occasion. This helped me become well-versed in hairstyling, hair types, and handmade hairpieces.
Fast forward to 2010. I had been working by appointment only in a beauty supply, learned the craft of wigs and hair pieces in depth, and I started selling small hair pieces to friends and locals. In 2013, I wanted to start a full-time business. I began marketing the Clip-in Bettie Bangs on Facebook and Instagram, and they were a success almost overnight. 
When Bettie Page the brand caught wind of the bangs and their quality and success, they were immediately interested in making Clip-in Bettie Bangs™ the official Bettie Page™ Bettie Bangs™ by Classy Rebel™. I was so flattered and excited that Bettie Page ™, the icon who made these very bangs so epic, was interested in little ol' me. Now Clip-in Bettie Bangs™ are sold worldwide and available in the Santa Monica Place Mall at Bettie's official flagship store. The bangs are so popular that we created a Bettie Page Hair brand which include our Bettie Bangs, Bettie Page Wigs™, and other fun accessories! Visit our Bettie Page Hair Collection. 
Some people might ask "Why clip-ins?" Well… Clip-ins give you the option of not having bangs when you'd like to switch up your hairstyle. These clip-ins are so believable that I've had customers cut bangs shortly after wearing the clip-ins because they loved they look so much. As lovely as the bangs are, they require a lot of maintenance. Bi-weekly trims and curling can be overwhelming for some. Several ladies out there have thin hair that cannot form into a bang. Curly haired girls have many struggles to keep their bangs straight. Also, having such a short bang can take a year or more to fully grow out. Clip-ins are so much fun and just overall a perfect accessory that lasts years! Buy yourself a set from Classyrebel.net, BettiePage.com, or walk in and try them on in person at the official Bettie Page Store at Santa Monica Place Mall. 
https://www.bettiepage.com/wp-content/uploads/2018/02/Screen-Shot-2018-02-01-at-5.25.21-PM.png
470
625
Ryan
https://www.bettiepage.com/wp-content/uploads/2017/01/logo.png
Ryan
2018-02-01 22:30:58
2018-02-05 15:46:04
How Clip-in Bettie Bangs™ were created